ELLEN LESPERANCE
Do you know that one day you lost your way, man?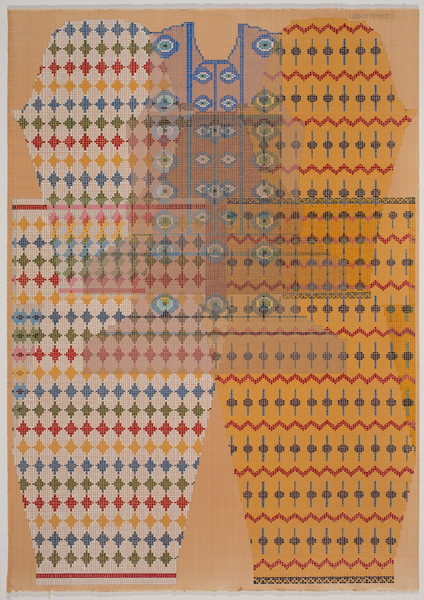 Disjecta Contemporary Art Center's Portland2014 : A Biennial of Contemporary Art
March 6 through 29, 2014
Public reception on Sunday March 9 from 2:00 to 5:00pm
THE WORK
Ellen Lesperance's practice draws from feminist activism, and particularly from environmental Direct Action campaigns orchestrated in the United Kingdom in the 1980s. Lesperance works in a variety of media including painting, sculpture and textile to build a visual iconography that refers to both the political and poetic aspects of these movements. For the Portland2014 biennial, Lesperance presents a rich installation with a series of gouache and graphite works on paper atop handmade dyed silks. The installation is punctuated by a host of terra cotta figurines which allude to the mythological narrative of the Amazonian women, balancing a dialogue between classical motif and contemporary historiography. Lesperance's array of works stand as a plastic metaphor for an empowered activist ideology in order to memorialize effective resistance and valorize anonymous activism.
THE ARTIST
Ellen Lesperance is an artist working in Portland, Oregon. She received her MFA in 1999 from Mason Gross School of the Arts, Rutgers University. Her work has exhibited in venues including The Brooklyn Museum; The Seattle Art Museum; Ambach & Rice, Los Angeles; Josh Lilley, London; The Drawing Center, PS122, and Artists Space (New York, NY); Adams & Ollman, Portland; and Samson Projects, Boston. Her work has appeared in publications such as The New York Times, The Los Angeles Times, GARAGE Magazine, Art Monthly, and Phaidon's Vitamin D2: New Perspectives in Drawing. In 2010 she received The Betty Bowen Award and was a MacDowell Colony Artist-in-Residence. In 2012 she was awarded a Hallie Ford Fellowship. In 2014, she attended artist residencies at Djerassi and the Sankriti Foundation, Delhi. Lesperance is represented by Ambach & Rice Gallery, Los Angeles.
THE BIENNIAL
Presented by Disjecta Contemporary Art Center, Portland2014 is a major biennial exhibition celebrating artists who are defining and advancing contemporary art practices, curated by Los Angeles-based curator Amanda Hunt. Portland2014 included exhibitions, events and performances in multiple locations throughout Portland from March 8 through April 27, 2014, and were complemented by a series of public artworks, interventions and a Saturday Series of public lectures and panels designed to engage diverse audiences by activating new contexts for contemporary art throughout the city.
Disjecta's Biennial continues the tradition of the Oregon Biennial inaugurated by the Portland Art Museum in 1949. Oregon artists lost a longstanding platform for career advancement following the final iteration of the Museum's Biennial in 2006. In 2010, Disjecta reintroduced the Biennial, curated by Linfield College Gallery Director Cris Moss. Portland2012 was curated by Prudence F. Roberts, former curator of American Art at the Portland Art Museum. The curator's vision is a key component of the exhibition, and as the first non-regional curator of the Biennial, Hunt's perspective promises to engage artists and audiences in new ways.
Portland2014 is supported by The Ford Family Foundation, Oregon Cultural Trust, The Kinsman Foundation, Oregon Arts Commission, The Robert Lehman Foundation, Travel Portland, The Regional Arts & Culture Council, Deschutes Brewery and Sign Wizards, as well as our partnering venues Upfor Gallery, White Box, University of Oregon, Portland, and The Best Art Gallery in Portland.