CHRISTOPHER RUSSELL
ESCAPE FROM LA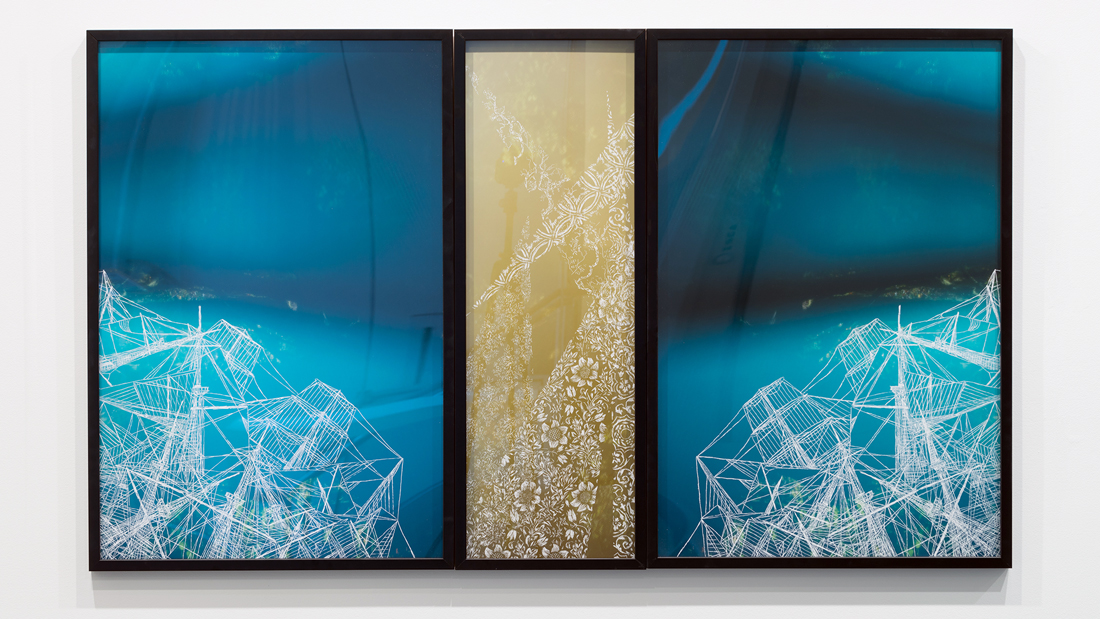 April 5 – May 13, 2017
Preview reception with the artist Wednesday April 5, 5:00 – 7:00 pm
First Thursday art walk April 6, 6:00 – 8:00 pm
Design Week Open House, April 25, 4:00 – 7:00 pm
Q&A with Virgina Heckert and Christopher Russell Saturday May 13, 4:00 – 5:30 pm
THE WORK
This exhibition briefly surveys bodies of work created by Christopher Russell over the last several years. Russell, now living and working in Portland, made his mark in Los Angeles with irreverent installations of altered photographs paired with transgressive, fictional texts that shared the chaotic aesthetic of his 'zine, Bedwetter. Though he has regularly reinvented his practice to avoid easy categorization, his imagery is often ambiguous and fractured, reflecting his exploration of the darker aspects of the human psyche.
During a nomadic period of searching for a new place to call home, Russell's process slowed down. His use of photography with laborious scratching into the print surface became more formally integrated and less driven by comparatively straightforward foreground/background relationships. Russell explains, "my process shifted into something where the photo and the drawing scratched into its surface work together, in a more dreamlike way; something that is neither a drawing nor a photo, but a hybrid."
Works on view draw from the series The Falls (2015), GRFALWKV (2013), Runaway (2011) and Self Destruct Mechanism (2017). This exhibition also includes a special presentation from Russell's 1996 series Landscape, black and white images of public sex in a San Francisco park photographed through a hole in his jacket pocket. This semi-secluded cruising space "became a concrete separation from the mores of city life and a movement into homosocial fantasy: cowboys or camping, military maneuvers or westward settlers." These images depict a dizzying blend of flora and raw human desire.
THE ARTIST
Christopher Russell (b. 1974 in Sacramento, California) lives and works in Portland, Oregon. He received his BFA from The California College of Arts and Crafts and his MFA from the Art Center College of Design, California. He has shown extensively, including a solo exhibition at The Hammer Museum. His work is in numerous museum collections, including the Getty Museum; Los Angeles County Museum of Art; Museum of Contemporary Art, Los Angeles; Museum of Contemporary Art, Chicago and the Museum of Fine Arts, Houston. His work has been the subject of positive review by the Los Angeles Times, New York Times, Huffington Post, Artillery, Frieze and Artforum, among others. He will be included in Cut! Paper Play in Contemporary Photography at the Getty Museum in the spring of 2018.