SRIJON CHOWDHURY
MEMORY THEATER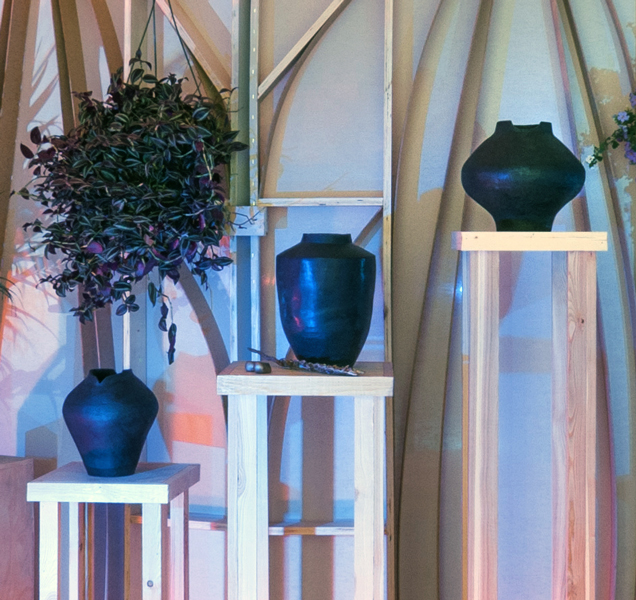 April 13 – May 28, 2016
Opening reception April 13, 6:00 to 8:00pm
First Thursday art walk May 5, 6:00 to 8:00pm
THE WORK
For Srijon Chowdhury's first project at Upfor, the artist reimagines 16th century inventor Giullio Camillo's theory of The Memory Theater, a universal storage and retrieval device. His invention, veiled in the occult and hermetics, was a radical shift in the philosophy of memory from the scholastic to the organic—a memory geared to the universe (Frances A. Yates, The Art of Memory, 1966).
The most ancient and wisest of writers have always been accustomed to recommending to their writings the secrets of God under obscure veils, so that they be not intended, unless by those who have ears to hear… The eyes of vulgar wills cannot suffer the rays of divinity.
-Giulio Camillo, L'Idea de Theatro, 1550
The work is of wood… he calls this theatre by many names, saying now that it is a built or constructed mind and soul, and now that it is a windowed one. He pretends that all things that the human mind can conceive and which we cannot see with the corporeal eye, after being collected together by diligent meditation may be expressed by certain corporeal signs in such a way that the beholder may at once perceive with his eyes everything that is otherwise hidden in the depths of the human mind. And it is because of this corporeal looking that he calls it a theatre...
-Viglius Zuichemus, Letters to Erasmus, 1532
Chowdhury conceptualizes the exhibition as a play. The gallery is a theater for another built inside of it. The play centers on a circular structure made out of 8 feet tall, arched wooden frames stretched with thin linen. The outside of the structure is curated with sculptures from featured artists — the actors backstage. Chowdhury sought artists to contribute to a cast of work that "feels fetishistic, ritualistic, and outside of time." Through an opening in the walls, spectators can walk into the center of the theater, to see the silhouetted shadows of these works through the linen and become simultaneously actors and audience. A sound piece that uses the recently captured audio from two black holes colliding one billion years ago as its driving beat resonates through the space. Memory Theater is a full sensory experience intended to facilitate remembering.
THE ARTISTS
Srijon Chowdhury (b. 1987 in Bangladesh) received his MFA from Otis College of Art and Design in 2013. Intended to act in the space between knowledge and emotion, his dream-like oil paintings consider the present moment as part of a larger, intuited (perhaps mythic) history. Chowdhury often uses repetition to examine the changes and removal that occur with each re-telling of history, a concept rooted in the experience of overlap and disjunction. He has exhibited in Los Angeles at Klowden Mann, The Torrance Art Museum, Jaus, Launch Gallery and Helen Bolsky Gallery; in Chicago at Sector 2337; in Miami at Fredric Snitzer Gallery; and at The Gallery in Dhaka, Bangladesh. Chowdhury divides his time between Los Angeles, CA and Portland, OR.