FRANCES STARK
My Best Thing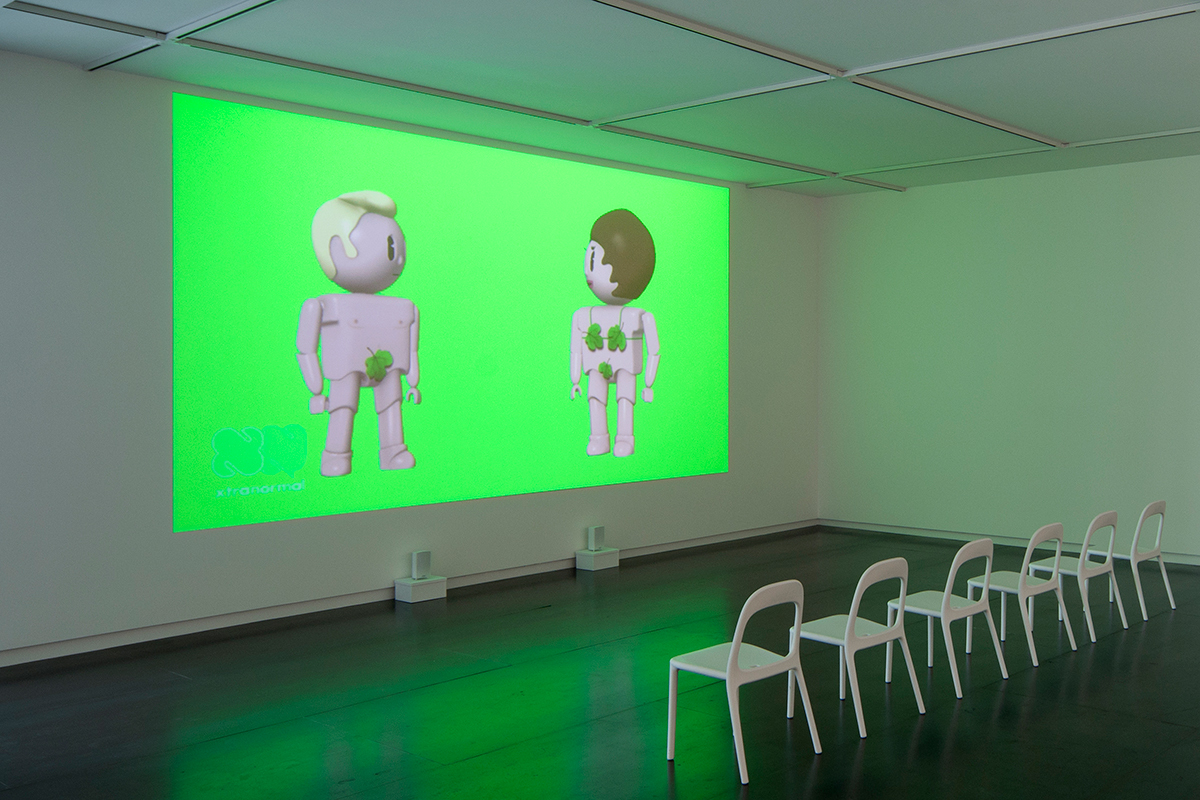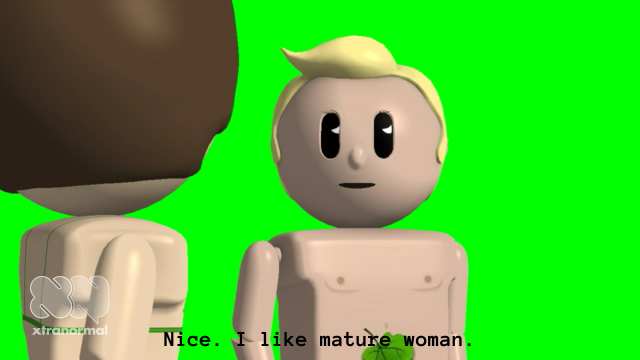 September 5 to 28, 2013
THE WORK
Frances Stark's first feature-length animation, My Best Thing, was presented in ILLUMInations at the 54th Venice Biennale in 2011. The work gained critical and popular attention soon after its debut.
Using transcripts of interactions in online chatrooms between the artist and two strangers, the animation unfolds as a serial. Conversations begin with flirtation and web sex and move to topics as diverse as politics, gender and artistic production. Stark initially converses with Marcello, a younger Italian filmmaker. Marcello then disappears from the chatroom for reasons that become apparent later, and she then encounters another man whom she mistakes for Marcello.
The work is highly confessional and evokes many ideas and emotions, not the least of which is the ways in which modern communication can create extremes of intimacy and anonymity.
My Best Thing was produced using Xtranormal, a publicly-available web tool that allowed users to manipulate a cast of characters around interchangeable backgrounds, using text-to-speech voice generation.
THE ARTIST
Frances Stark (American, b. 1967) is a Los Angeles-based artist and writer. Stark creates works on paper, videos, sculptures, and live performances. Stark received her MFA from the Art Center College of Design, Pasadena, CA. She is currently Assistant Professor at the University of Southern California. Solo exhibitions of her work have been presented at the MIT List Visual Arts Center, Cambridge; Nottingham Contemporary, Nottingham; Center for Contemporary Art, Glasgow; Portikus, Frankfurt; Secession, Vienna; Van Abbe Museum, Eindhoven, The Netherlands; Culturgest, Lisbon, Portugal; UCLA Hammer Museum, Los Angeles; and Kunstverein, Munich.
Her work has also been shown in the Venice Biennale, Venice; Performa 11, New York; the Whitney Biennial, Whitney Museum of American Art, NY; Tate Modern, London; De Appel, Amsterdam; New Langton Arts, San Francisco; Kunsthalle, Basel; San Francisco Museum of Modern Art, CA; Museum of Contemporary Art, Los Angeles; and the Institute for Contemporary Art, London. She is the author of several books including This could become a gimick [sic] or an honest articulation of the workings of the mind, published by MIT List Visual Visual Arts Center; Frances Stark: Collected Works, published by Verlag der Buchhandlung Walther König; and The Architect and The Housewife, published by Book Works.
PRESS
Frances Stark: My Best Thing - Willamette Week
September Preview Features 'My Best Thing' - The Oregonian
Review: 'My Best Thing' at MoMA P.S.1 - New York Times