TIM FLOWERS & REBECCA RIPPLE
TILT Export: Fanatic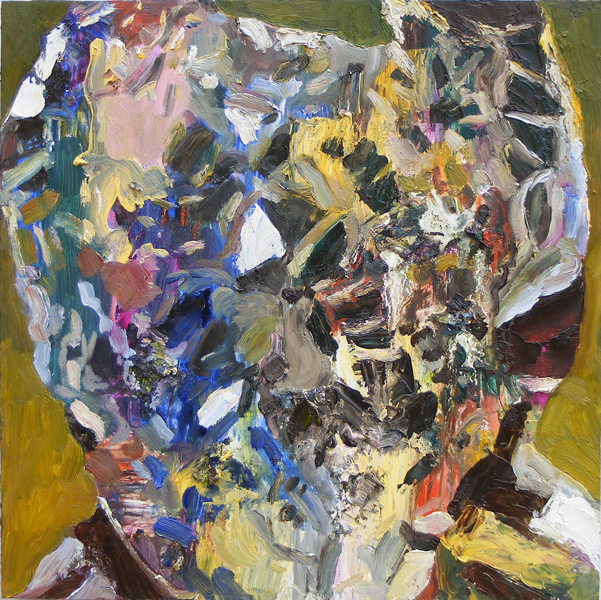 April 2 – 26, 2014
Reception: Thursday April 3 from 6:00pm to 9:00pm
THE WORK
To create his oil paintings for TILT Export: Fanatic, Tim Flowers took facial indentations with foil and painted the masks' interiors from observation. The inverted features become reverse portraits, abstracted into prisms of reflected colors. Rebecca Ripple's highly worked sculptural installations draw from her Catholic school education to produce objects that are rich in history both personal and historical, secular and spiritual, provoking visceral and intellectual responses.
Both artists approach the conception and creation of their works from a fanatical perspective, fully immersed in their respective practices. As with sports fandom and other domains of fanaticism, the fully immersed artist becomes an accidental expert, keen to study the minutiae so as to gain a greater understanding of the whole.
THE ARTISTS
Tim Flowers (b. Enid, OK) received his MFA from the Rhode Island School of Design in 1985 and has exhibited his work nationally and internationally at venues including St. John's University, Jamaica, NY; Holter Museum of Art, Helena, MT and College of Fine Arts, Sydney, Australia among many others. Flowers is currently the drawing, painting and printmaking coordinator at Georgia State University. He has been an artist-in-residence at the Millay Colony, NY, and has taught at Anderson Ranch Arts Center in Aspen, CO.
Rebecca Ripple (b. Huntington, NY) received her MFA from Yale University in 1995, and has exhibited throughout the United States and in Italy. Her work has been featured in Sculpture Magazine, and reviewed in LA Weekly, ArtScene, Chicago Tribune and American Craft. She attended the Skowhegan School of Painting and Sculpture, and has received multiple awards including a City of Los Angeles (COLA) Individual Artist Fellowship and a Nathan O. Freedman Endowment for Exceptional Creative Accomplishments Award. She teaches at California State University, Northridge and Los Angeles Community College, and she lives and works in Los Angeles.
THE CURATORS
TILT Export: is an independent art initiative with no fixed location, working in partnership with a variety of venues for its exhibitions. Founded by Jenene Nagy and Joshua West Smith, former curators of Tilt Gallery and Project Space, TILT Export: serves as a catalyst for opportunity, awareness, and the challenging of ideas through art making.
PRESS
Critic's Picks: Portland - art ltd. magazine
Recommended: Tim Flowers and Rebecca Ripple - Visual Art Source